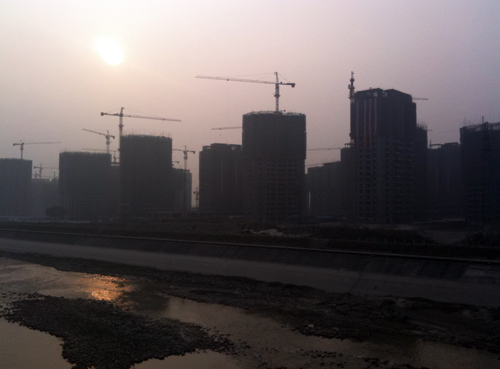 New development outside Jiangyou, Sichuan Province
The following post is an adaptation of a comment I made on my good friend and Chengdu-based American writer Sascha Matuszak's recent ChengduLiving article about the development of the Chengdu-Chongqing Economic Zone. The comment recalls my own experience of a business trip to one of the smaller cities in the zone: Jiangyou, Sichuan Province:
Thanks for the update on the Chengdu-Chongqing Economic Zone, Sascha. Having been to several of the 3rd and 4th tier cities in Sichuan you mentioned (Suining, Mianyang, Nanchong, etc..) I've often wondered how the prosperity in the region's two dominant cities (Chengdu and Chongqing) would trickle into these other cities as well.
It seems as if most of the young ambitious Chinese people I meet from these cities who now live in Chengdu feel like there is nothing left for them in their hometowns. They also tell me that if they want to move ahead the best opportunities are found in Chengdu or Chongqing.
This isn't to suggest that Chengdu and Chongqing will continue being the only cities absorbing all the region's young, educated and ambitious talents. As is clear from what you wrote, the government is pushing for the prosperity to spread throughout the region. And given the enormous combined population of Sichuan Province/Chongqing Municipality at a whopping 110 million people, this is certainly a reasonable plan.
Unfortunately, observations on the ground often tell a different story. About a year and a half ago I was in a city called Jiangyou (famous as the hometown of the poet Li Bai and now actually considered a part of greater Mianyang) to meet with a housing developer for a potential new project. The developer had just finished building a series of faux Italian-style villas on the outskirts of town and reveled in showing us the finished product. No one had moved in yet, but the units were sold out. View full post »