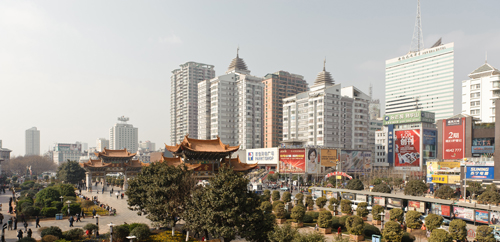 Kunming, Yunnan Province:   China's Gateway to Southeast Asia
China receives a lot of well-deserved recognition for its expanding high-speed passenger rail system. Now China's rail ambitions are extending well beyond its borders into neighboring countries. This April, construction is to begin on a rail line linking southern Yunnan province with the country of Laos to the south.
With cash in hand and the ability to build such a rail line, China is paying for the majority of the construction cost while Laos will only be responsible for 30% of the cost. This is yet another example of China exercising its policy of 'infrastructure diplomacy'- that is, helping other developing nations pay for and build new infrastructure to promote favorable relations and gain access to natural resources.
China can now be seen practicing this form of infrastructure diplomacy in everywhere from sub-Saharan Africa to Central Asia and even South America. Yet nowhere are the implications of this approach to foreign policy more manifest than in Southeast Asia. This is not only due to the close proximity of the region to China's southern border, but because Southeast Asian nations are about to undergo their own development transformations and China is looking to establish a  key role in the process.
China's ambitions are so high in Southeast Asia in fact that the country hopes to someday link via rail all the way from Beijing to Singapore. Plans are also underway to connect China to Cambodia and Thailand. Much to the dismay of human-rights activists, China also has very good relations with Myanmar despite that countries questionable leadership.
Vietnam is a unique case in that their sense of autonomy is especially strong in the region. In particular, Vietnam does not shy away from criticizing China over overextending its claim over the adjacent South China Sea. Territorial disputes could arise, but chances are likely that Vietnam and China will find a way to work together that will mutually benefit one another.
In China, Kunming, the provincial capital of Yunnan, stands to gain tremendously from the growing ties with Southeast Asia. A city of about 3 million people, Kunming is already China's gateway to the region and boasts a diverse array of minority cultures with historical ties to countries to the south. Though long relegated to 3rd tier status, Kunming is on the rise to become what will be an important international business and transportation hub for China and all of Southeast Asia.
GoKunming: Trans-Laos Railway Construction to Start in April
Monsters & Critics: Construction on Laos' High-Speed Rail Set to Start in April