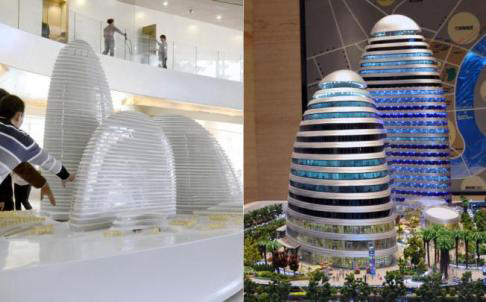 Zaha Hadid's Wangjing SOHO design (left). Chongqing Meiquan 22nd Century design (right). Image from AFP.
Earlier this year, the architecture world was in shock after a story made the rounds that a Zaha Hadid designed project in Beijing is being pirated by a developer in Chongqing. What's surprising about this story is not the actual copying of Hadid's design but the reaction from the design media, as if this is the first incidence of architectural piracy in China.
Of course this is not the case as building designs are routinely copied in China. However, what makes this instance unique is that while Hadid's design (Wangjing SOHO) is still under construction, the copied version (Chongqing Meiquan 22nd Century) is set to complete first. Pan Shiyi, Board Chairman of SOHO China, Hadid's client, has not kept quiet about his disapproval, and is now taking legal action against the developers in Chongqing.
This situation brings up the reoccurring discussion about authenticity (or lack thereof) in China. It is no secret that China 'learns by imitation' in everything from product design to software development. In the realm of architecture, it is not uncommon to come across functioning replicas of famous buildings from history (like the Chrysler Building, Sydney Opera House, or the entire Austrian Village of Hallstatt) in China's cities.
Hadid's office speculates that perhaps someone got hold of their plans for Wangjing SOHO to produce the copy. Yet having seen Chinese architects in action, it would not be far-fetched to speculate that the designers of Chongqing Meiquan 22nd Century saw nothing more than a computer rendering of Hadid's project on the internet to generate something of similar likeness.
Architects around the world learn from other architects. Websites like ArchDaily are a great resource for architects to promote their work and for other architects to get inspired. Like professional writers, there is an unspoken ethical code among architects about borrowing from other designers: re-using certain ideas or building elements is ok, even flattering at times, but outright plagiarism is never ok.
This code of design ethics doesn't exist (yet) in China. As is often the case, copying a famous design from another architect can be a good strategy in getting approval from a Chinese client or local government official. In response to the accusation of copying, developer Chongqing Meiquan even said "never meant to copy, only want to surpass."
This response is very telling of where the value of architectural design lies today in China. While it could be argued that China is still in its "learning phase" of development, it is starting to become clear that the country's ambitions lie much further beyond not only being the 'biggest' but the 'best' – even if that means using dishonorable means to get there.