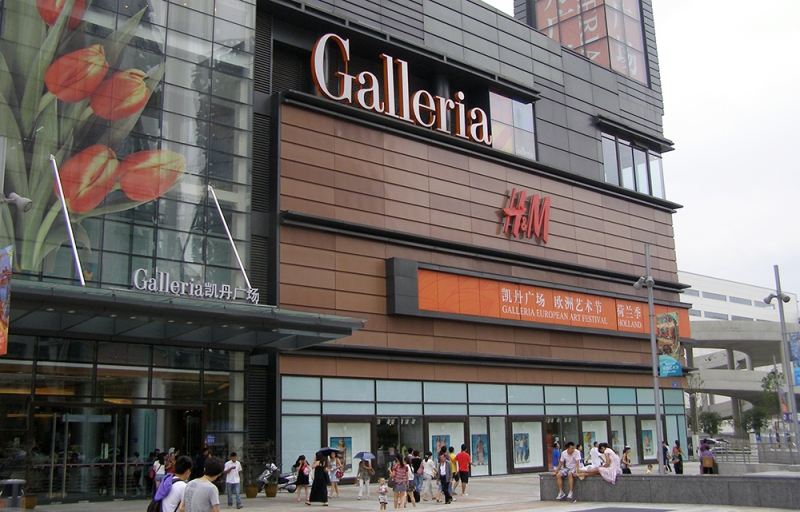 Photo by Adam Mayer
This article by Harry den Hartog originally appeared at Sixth Tone.
As early as 2002, the Dutch architect Rem Koolhaas noted how architectural spaces facilitated the urge to consume: "Shopping is arguably the last remaining form of public activity. Shopping has infiltrated, colonized, and even replaced almost every aspect of urban life. Town centers, suburbs, streets, and now airports, train stations, museums, hospitals, schools, and the internet are shaped by the mechanisms and spaces of shopping."
In addition, malls consume a lot of energy. In a modern society, we require smarter structures to ensure that outside street life is protected. Otherwise, China will face — and is already facing — a situation similar to many towns in the U.S. where cars dominate and sidewalk life has disappeared.
More than ever, people are choosing to live in cocoons such as cars and malls, eschewing social interaction — something that Belgian philosopher Lieven de Cauter has called the "capsular society." In Europe, while most malls are small in scale, they have still managed to tear through the historical urban fabric of our cities. During the last decade, the number of cars and malls more than doubled in China, and the trend is continuing.
As we trace the development of malls through the 20th century in the Western world, we see a remarkable shift from targeted shopping to recreational shopping. Since the 1950s, the interior environments of malls worldwide have been gradually domesticated, with the aim of prolonging our time inside and stimulating consumption. These developments have been followed by an urban renaissance since the late 1980s, with more and more malls relocating to old city centers, often as open-air arcades such as Westfield Horton Plaza in San Diego.
Walking through China's rising cities, one might think that the country's new middle class is still partial to air-conditioned indoor spaces bedecked in gleaming marble floors and playing host to expensive luxury brands. However, the popularity of such malls is in fact quite difficult to gauge. Most malls make minimal profits and lack customers; only the food courts see crowds. In 2016, several malls closed down in Shanghai, including the recently renovated Jinjiang Shopping Mall. Meanwhile, new malls are still under construction despite little to justify their existence. Already in 2004, former Chinese Premier Wen Jiabao warned of "mall mania," or the tendency to build projects out of pure speculation rather than in response to consumer demand.
Contemporary Chinese shopping malls can also be seen as an interpretation of the theme park concept. They offer an escape into a different world that is completely controlled and free of dangers or unwelcome surprises. They are sophisticated hives of seductive amusements designed to increase consumption. To distinguish themselves, many malls go all-in on a thematic approach, such as the neoclassic design of Shanghai's Global Harbor Mall, or K11, a shopping center-cum-art gallery.
In the denser urban context of Chinese cities, however, we find a number of more unique features of shopping malls. In contrast to the West, where malls are usually located in suburbs and only accessible by car, Chinese malls are often situated downtown and near a metro station, with high-density residential complexes only walking distance away. The challenges to traditional urbanity, however, remain the same. In China, too, existing physical and social structures are destroyed, and a form of financial limitation is imposed on large groups by the exclusivity and high prices of products in the malls.