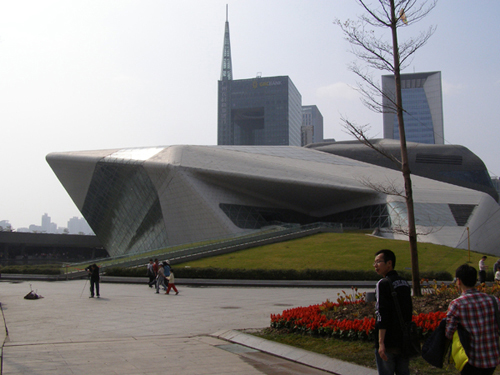 A few months ago I visited the recently opened Guangzhou Opera House, designed by renowned British-Iraqi architect Zaha Hadid. The project represents a new era in cultural development for Guangzhou and China. Drawing inspiration from the adjacent Pearl River, the project is conceived as  'pebbles in a stream smoothed by erosion'.
Guangzhou (0nce known as Canton) is one of China's great cities, with a long history and unique culture. Sitting in the Pearl River Delta, the city was once China's gateway to the world, serving as the country's primary hub of international trade. Today Guangzhou remains an important city as it is the capital of prosperous Guangdong Province.
Yet as China has developed in recent years, Guangzhou has ceded some of its historic luster. No longer is Guangzhou China's gateway to the world as nearby Hong Kong has taken that title. The special economic zone of Shenzhen, also nearby, dominates international headlines with its rapid development and status as China's symbol modern prosperity.
Yet what Shenzhen and Hong Kong lack in culture, Guangzhou makes up for with its proud sense of the past. The opera house is an attempt to regain some of its cultural dominance in southern China. View full post »