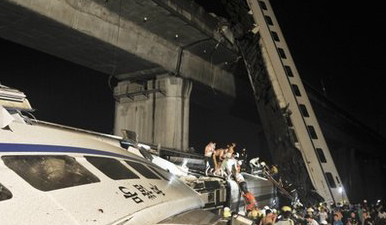 In a gigantic blow to the credibility and safety of China's high-speed rail network, a train traveling from Zhejiang's provincial capital of Hangzhou to the seaside city of Wenzhou derailed Saturday evening. Details at this point are still developing, but so far reports have said that the train was struck by lightning and then subsequently hit by another train, leading to two of the train's cars falling from a bridge. So far, 16 passengers are reported dead and 89 injured.
Having ridden on several of China's new high-speed trains myself makes seeing the wreckage of this accident all that much more surreal. Whether the accident is due to some sort of track or train defect is yet to be determined. If the train was in fact struck by lightning, this could turn out to be a freak accident. If not, then surely there will be further inquiry into the quality of the fly ash which acts as a critical component of the track foundation mixture.
Whatever the cause of the crash, this incident marks a turning point in China's high-speed rail program. From now on, questions about safety compromises are bound to come to the forefront of the discussion.
I will keep you posted with updates as more information becomes available.
UPDATE:
The death toll is now up to 35, with 210 more injured. It turns out that lighting did strike the first train, D3115 en route from Hangzhou to Fuzhou, causing the train to lose power and come to a stop. Shortly after, D3115 was struck from behind by another train, D301 en route from Beijing to Fuzhou. The crashed caused the first four cars of D301 to derail and fall 20 meters off the viaduct.
Rescue efforts are encouraging, with bystanders and uninjured passengers having offered up immediate assistance before rescue crews arrived at the scene. Hundreds of Wenzhou residents have also donated blood to local hospitals ensuring that blood supply is sufficient for injured passengers.
Whenever tragic transportation accidents happen at this scale, people are quick to assign blame. Already many commentators are pointing to the alleged shoddy quality of the tracks as a reason for this accident. Some even go further suggesting that this is a result of a Chinese culture that doesn't value quality or safety, pointing to the rampant corruption and food scandals.
At this point it seems that the accident was not a result of shoddy tracks but a miscommunication problem. As soon as train D3115 came to a stop, train D301 and all other trains on that line going in the same direction should've been alerted. It's possible that the lighting strike, which caused D3115 to lose power, also caused it to fall off radar.
Whatever the ultimate cause of the crash, the incident is bound to add fire to the critical voices of high-speed rail development in China.