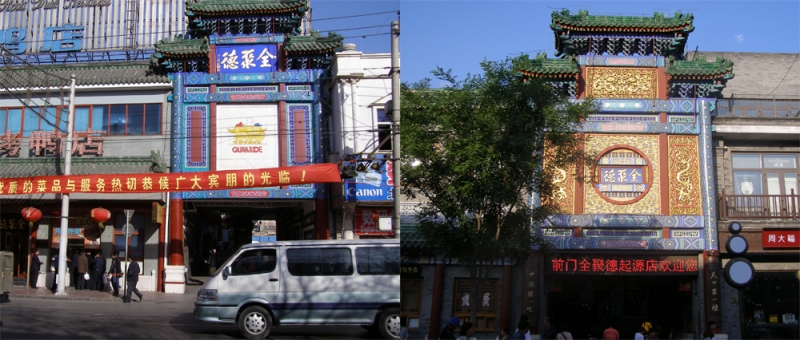 Before and After Photos of 'Quanjude', a famous Peking Duck Establishment in Qianmen Since 1864
It is a familiar narrative across China's cities: historic districts routinely razed to make way for new developments comprised of high-rise residential communities and retail mixed-use complexes designed to reflect China's 21st Century image.
Yet in some of China's more high-profile historic neighborhoods, redevelopment is conceived to capture the spirit what was once previously on site by rebuilding in traditional Chinese architectural styles. 'Tourist Streets', as these kinds of developments are referred to by developers and government officials, are a hot project type in China- nearly every city wants one. They range from accurate recreations of China's past to cheap pastiche.
In some exceptional cases, such as Xiantiandi in Shanghai and Kuan Zhai Xiang Zi in Chengdu, serious efforts were made to preserve some of what was already there and reuse materials from demolished buildings. In most instances though, the practice of completely demolishing/rebuilding remains the typical Chinese development modus operandi.
One of the most controversial instances of the demo/rebuild type of historic redevelopment is the Qianmen area of Beijing, a neighborhood directly south of Tiananmen Square. Thanks to its adjacency to the heavily visited city center, Qianmen (which translates to 'Front Gate') is a popular tourist area with several shops and restaurants.
Similar to other developments around China, thousands of residents were relocated for redevelopment in Qianmen. Yet given its high-profile location, the project received a lot of heat, not only from preservationists but from local Beijing residents as well, many of who have connections to the tight-knit community.
I first wandered into Qianmen on a visit to Beijing back in 2006. At that time, the neighborhood was in full-scale transition, with demolition of old courtyard siheyuan buildings taking place at an alarming pace. Despite the dust and noise, retail commerce, which consisted of small family-owned shops selling touristy knick-knacks and knock off goods, thrived in the area.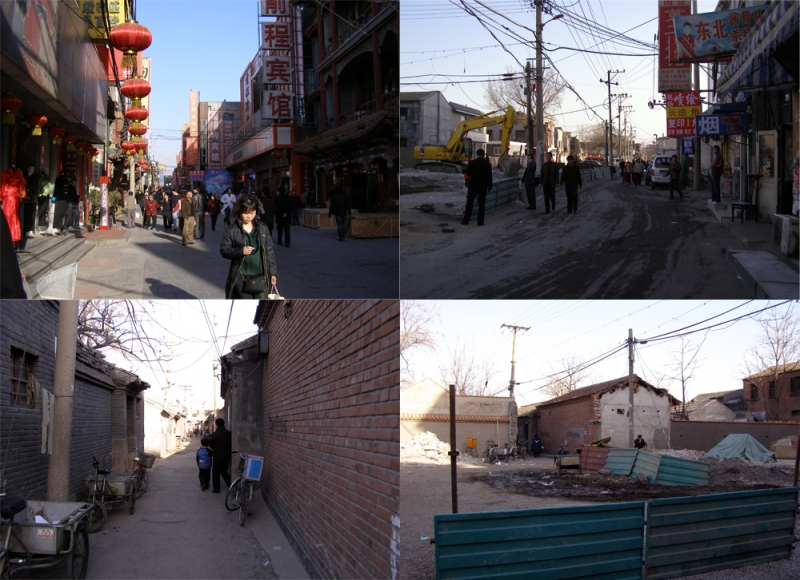 Qianmen in 2006: Still Retaining Some Original Character but Redevelopment Commencing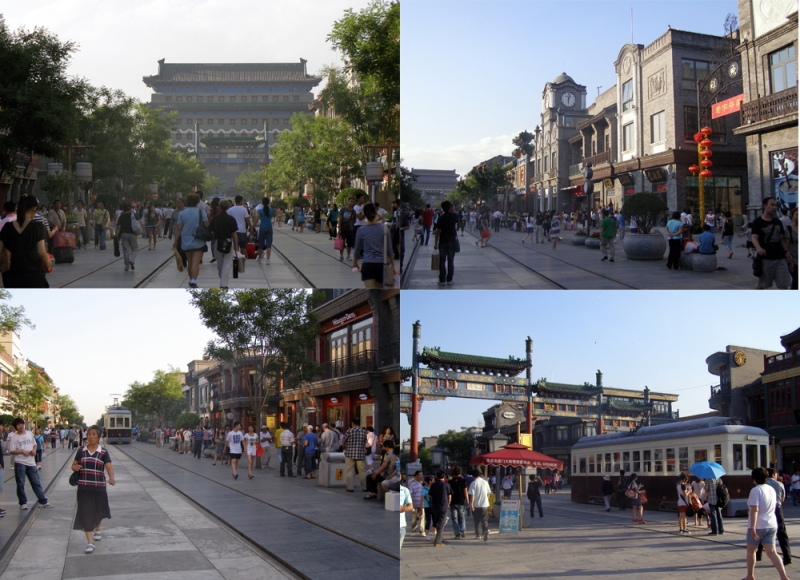 Qianmen in 2011: Pedestrian Street Directly South of Tiananmen Square Rebuilt Completely in Qing Dynasty-era Architecture
Although Qianmen Street, the main pedestrian thoroughfare bisecting the neighborhood, officially reopened just in time for the Beijing Olympics in 2008, I didn't make it back to the area until last year. When I finally did make it back, the area was completely unrecognizable from what I saw in 2006.
Ramshackle old buildings and maze-like narrow alleys were replaced by new retail buildings evoking Qing-era architecture lining a wide avenue with a trolley car (which reminded me of another outdoor pedestrian mall across the Pacific: The Grove in Los Angeles). Mom and pop shops selling questionable goods were replaced by international retail chains such as Starbucks, Häagen-Dazs, New Balance and H&M. The only landmark that remained (and which I recognized from its memorable sign) was the famous Quanjude Peking Duck restaurant.
Perhaps most interesting though was not the new tourist street itself, but the current state of the surrounding area. Directly east of Qianmen Street, new construction extended for several blocks, continuing in the same new/old Qing style of the tourist street. Much of the construction was already complete, but the retail spaces remained mostly empty..
The other (west) side of Qianmen Street was an experience in contrasts. The narrow and crowded streets flowing through the old single story siheyuans reminded me of what the area looked like back in 2006. Sure enough, this area had escaped development up to this point but given its inconsistency with plans for the overall neighborhood it is a sure thing this area will eventually be redeveloped as well.
It might be too late for preservation in Qianmen, but the public outcry against the redevelopment there prompted preservationists to put a stop to plans for another large project in a historic district not too far away: The Drum and Bell Tower 'Gulou' Area north of the Forbidden City. With advocacy from the Beijing Cultural Heritage Protection Center, preservationists were able to convince the government to greatly scale back plans to redevelop a 12.5 hectare area in the Gulou neighborhood.
Once a very sensitive topic in China, historic preservation is now discussed openly among stakeholders. With much of the country's architectural history lost in the rush to develop, a new generation is ever more aware of the importance of what is left. Given this shift in dialogue, it will be interesting to see how the new leadership in Beijing approaches the subject when it takes office next year.