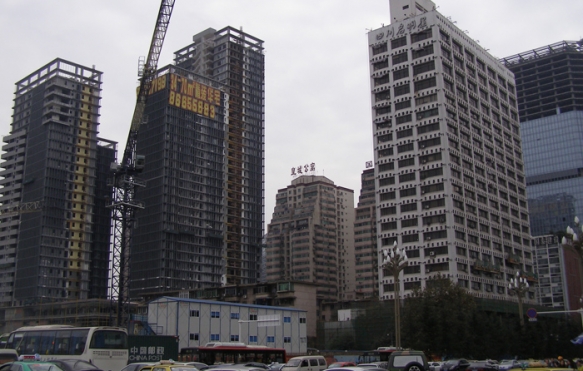 The Economist Intelligence Unit (EIU) shared with us their new study on "China's Urban Dreams 2014" – an update on the country's urbanization program. With all the uncertainty about China's property sector in the news recently, this in depth analysis gives some clarity to the often murky topic of Chinese development.
While Western media tends to paint China with one large brushstroke when discussing the country's property sector, the reality is that real estate markets vary greatly from region to region. China, like the U.S., is a large, diverse country with many different cities and regions with varying strengths and weaknesses. If there is one takeaway from the EIU study, it's that not all regions are created equally, and going forward, there are bound to be winners and losers.
Before we delve into the details of regional urbanization trends, let's take a look at where China as a nation stands today. The country's urbanization ratio is right around 50%, pretty much on target with the Chinese government's projections. China's per capita GDP is still relatively low- above India and Nigeria but below Brazil, Russia, and South Africa. Of course, China's enormous population is a contributing factor to this being the case.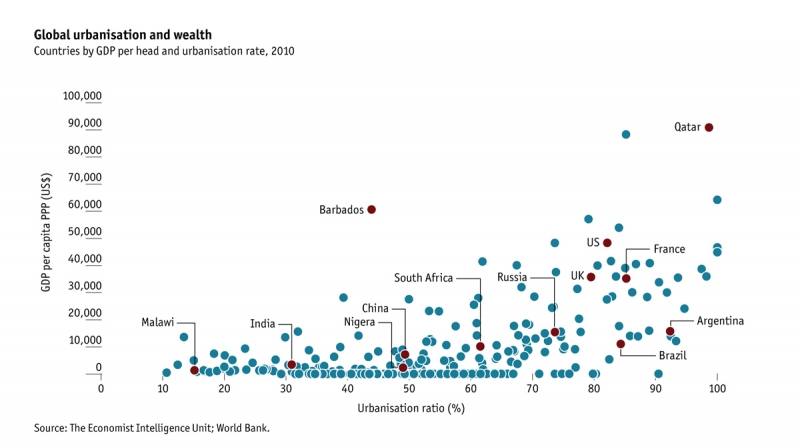 By 2020, the Chinese Government wants to bump up urbanization to 60%.  This will require another 100 million people in cities. It is important to keep in mind though, that this will not only be a result of migrants explicitly "moving" to the city, but urban boundaries continuing to expand into the surrounding countryside. As cities grow in China they annex the land around them, transforming once rural land into urban real estate.
Another key factor in meeting urbanization targets is household registration (hukou) reform, which would help afford migrants a form of permanent residence status in a given city.
Where will these 100 million new urban residents live in 2020 and beyond? According to the EIU study, Guangdong Province will pick up the lion's share of new urban development. This is not surprising given that the Pearl River Delta region is already the most urbanized in the entire world and is further developing in a manner to help better integrate the region as a whole.
Central province Henan is also urbanizing rapidly, as is the Beijing-adjacent province of Hebei. Yet both of these provinces won't reach the urban populations projected for coastal provinces Shandong and Jiangsu.

Perhaps unsurprisingly, it is projected that the direct-controlled municipalities of Beijing, Shanghai and Tianjin will have the highest rates of urbanization by 2030. The Central Government has made it a priority to integrate Beijing, Tianjin and the adjacent province of Hebei into one large mega-region of 100 million people called "Jing-Jin-Ji". The aim here is to take pressure off of Beijing, which suffers from traffic gridlock, pollution and astronomical housing prices.
Along with the announcement of the formation of the Jing-Jin-Ji mega-region was a move by Hebei Provincial officials announcing that some of Beijing's Central Government functions will move to the city of Baoding, 150 km southeast Beijing. Although specifics have yet to be articulated, this is a clear indication that the China plans to decentralize its government functions.


Overall it looks as if the coastal areas of China will continue to urbanize at high rates while inland regions lag a bit behind. Although there is a wave of manufacturing moving from coastal areas to inland provinces, there still appears to be a logistical advantage being on the coast. To see where China is heading, perhaps it is best to look at the Pearl River Delta, which has led the way since initial economic reform and continues to lead the way today.