Guangzhou's New CBD (highlighted in red) sits north of the Pearl River and east of the Old City in what not long ago was agricultural land
Recently I visited Zhujiang New Town, Guangzhou's newly built central business district (CBD). While Guangzhou itself is hardly a new city (its status as an international trading port goes back centuries), the CBD is brand new, built on what used to be agricultural land well outside of the historic city core. Though thanks to the city's expanding underground metro and freeway system, Zhujiang New Town doesn't seem so far away.
Currently Zhujiang New Town is best known as the site for the Guangzhou Opera House and many of the athletic venues for the 2010 Asian Games. One unique aspect about Guangzhou's CBD compared with others around China is its marriage of cultural buildings with commercial office towers. In this regard, Zhujiang New Town is not much different from the planned 'downtowns' of sprawling 20th Century American cities like Los Angeles, Phoenix and Houston.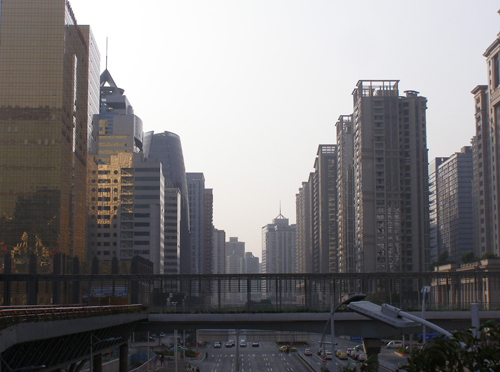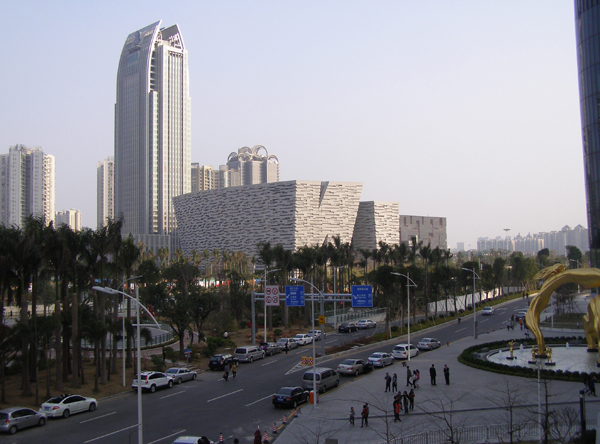 The iconic Canton Tower sits across the river, just south of the new CBD

View looking north at towers going up in the CBD

Aerial map of Guangzhou CBD
Adjacent to the Pearl River to the north is the site of Zhujiang New Town's new cultural venues linked by a paved plaza. Directly north of that begins a park stretching four long blocks lined with brand new office towers. Underneath the park, a metro line runs the length of the CBD. This particular line of the Guangzhou metro system has no driver (so far this is the only instance of this I've seen in China!).
While the cultural venues were bustling with life when I was there, many of the completed office buildings were for the most part unoccupied and the park was a no-man's land. This is not to say that the towers won't be occupied very soon, as the finishing touches were just being put on. It will be interesting to see how this sparkling new CBD fills itself up in the coming months and years ahead.

1. Guangzhou Opera House

2. Guangdong Museum


3. Guangzhou Library

4. IFC Tower

5. New Commercial Office Buildings

6. Agricultural Bank of China Building

7. The Pearl River Tower

8. More Commercial Office Towers Under Construction