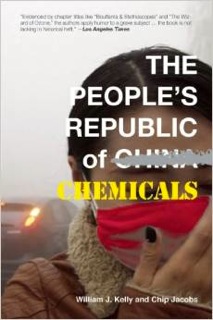 Nothing threatens the stability of China's economic miracle more than the hazardous levels of pollution generated by rapid development. The rise of the private automobile, unregulated toxic factories, and the widespread use of coal-burning as an energy source have all contributed to environmental degradation across China's cities. While in the past, these issues were swept under the rug in favor of economic growth at all costs, the rise in living standards means that China's leadership can no longer ignore the concerns of the people they serve.
China is now at a crucial turning point where economic goals must be balanced with considerations for the environment going forward. This is not an easy problem to tackle and the solution will require a global effort.
The new book The People's Republic of Chemicals serves as an excellent starting point in understanding how China's pollution problem got so out of hand in the first place and what can be done to stop it (or at least slow it down). The book's co-authors, William Kelly and Chip Jacobs, are appropriate storytellers having together written the 2008 book Smogtown about the rise and fall of pollution in mid-century Los Angeles.
William took the time to answer some questions for us about their new book: