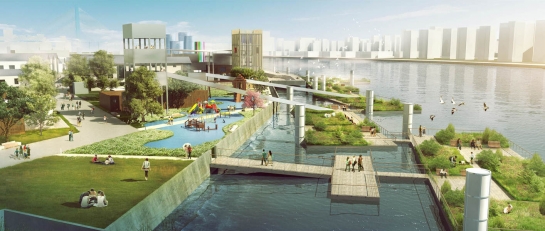 East Bund Waterfront Competition Proposal, Design by Agence Ter
This article by Harry den Hartog originally appeared at Sixth Tone.
Shanghai used to be a city crisscrossed by waterways, and dozens of street names still pay homage to the canals and creeks that run through its urban sprawl. Lying in the swampy Yangtze River Delta, this former fishing village witnessed an industrial boom following the establishment of its treaty port after the Opium Wars.
Though the city's name literally translates as "on the sea," these days the Yangtze's immense forces of sedimentation have pushed the coastline well out of town. In addition, large-scale land reclamation projects since the 1950s have made great tracts of marshland suitable for human habitation, though with negative side effects for ecology and flood protection. View full post »