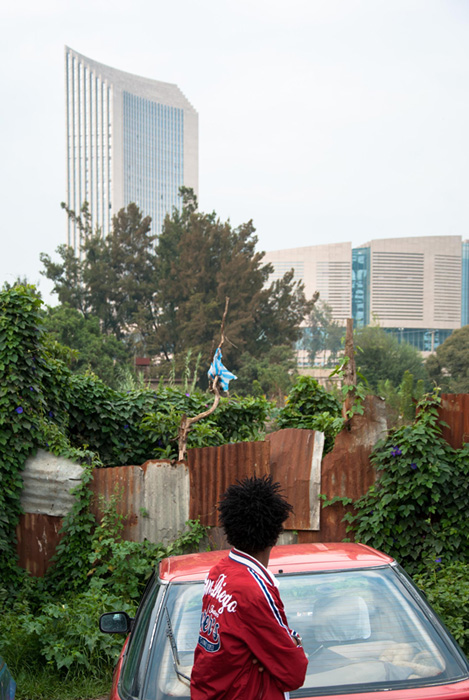 A local looks up at the new African Union Headquarters in Addis Ababa, Ethiopia. The complex was funded entirely by Chinese money. Photo Credit: Go West Proejct

In 2009, China surpassed the U.S. to become Africa's single largest trading partner. Yet the burgeoning relationship between China and Africa is no ordinary trading arrangement. Rather than colonizing the continent as Western powers did in the past century, China is trading infrastructure development and urbanization expertise for access to Africa's vast natural resources. This re-balancing of trade has yet to be studied in depth as it is probably too early to tell what the impact of China's involvement in Africa will have on the broader world's economy.
What we can observe is the immediate impact China is having on Africa's urban development. Luckily we have Dutch researchers Michiel Hulshof and Daan Roggeveen of the emerging cities think-tank Go West Project to explain to us what is happening on the ground.
I first met Hulshof (a journalist) and Roggeveen (an architect) at the 2011 Chengdu Biennale where they presented their research on China's developing western metropolises (hence the name of their think-tank). Their research culminated in the book How the City Moved to Mr. Sun – China's New Megacities (2011), which looks beyond the so-called 1st Tier cities of Beijing and Shanghai to tell the story of urbanization in the country's heartland.
Now Hulshof and Roggeveen are looking even further, beyond China's borders, to study what the Chinese urbanization experiment means for Africa's cities. They were kind enough to take the time to answer some questions for us about their initial research: View full post »