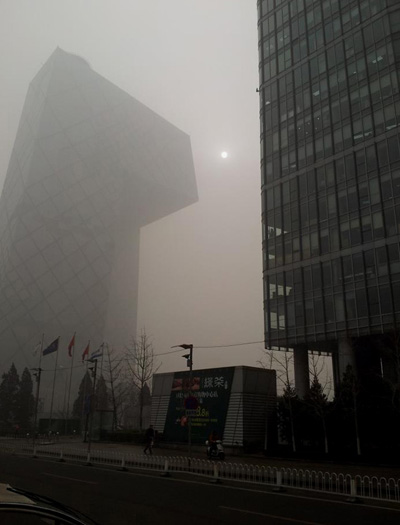 Like many foreign travelers and working expats who arrive to China, Beijing was my first port of entry into the country. Leaving Capital Airport I was struck by the massive scale of the city, overwhelmed by the repetitive concrete towers standing like regimented rows of soldiers in the skyline. Beijing's urban form is undoubtedly inspired by the Soviet-era tendency towards grandiose urban planning schemes, but as I would come to learn the story on the ground painted a different, much more vibrant picture of urban life.
Beijing is not a city that one can fully appreciate in the matter of just a few days visiting the famous historical sites. In the space between gigantic attractions like The Forbidden City, Temple of Heaven, and Summer Palace, a modern grassroots culture thrives. Underground rock clubs, artist studios and independent coffee shops coexist in what's left of old hutong neighborhoods as well as reclaimed industrial spaces on the periphery of the city center.
The notion of a burgeoning arts scene would seem to run counter to what many outside China still think of the city: that is, the seat of an oppressive Communist government devoted to quashing all personal freedoms. Although Chairman Mao's portrait still looks ominously over Tiananmen Square, the perception of Beijing as a cultural desert couldn't be further from the truth.
Arts and culture are engrained in the city's urban DNA. Beijingers are rightly proud of their city's long history as a cultural center, and its young creative residents continue that tradition today. Just as the infinite looping ring roads that surround the city conjure up images of Ouroboros (the serpent eating its own tail), so is the city itself in constant cyclical reinvention mode. The tremendous social and economic changes provide a fertile ground for artistic inspiration and creative freedom.
Yet there is one factor that undermines Beijing's aspirations as a global urban creative center, and it is not the threat of government oppression. Rather, it is the layer of hazardous grey smog that envelopes the city on a regular basis.
When I first visited Beijing 2006 air pollution was already a problem, but not at quite the level it is now. When I returned to Beijing in 2009, this time moving to China for work, I noticed the pollution had become markedly worse. Thousands more cars were added to the roads and urban development was pushing out past the city's distant 6th Ring Road. Today, the pollution levels are worse than they've ever been, with the density of PM2.5 particles reaching as high as 671 micrograms (or 26 times the level considered safe by the World Health Organization).
As someone with the fortune of being born in a country that is already developed and has established emission standards, I've been hesitant to criticize China regarding their development aspirations. Throwing stones from afar would be nothing less than hypocritical, as most developed countries also went through a "dirty phase" during rapid industrial expansion. Thus, the general tone of this blog is supportive of China's urban development and the economic benefits it has created for the Chinese people.
Yet China's environmental crisis is a serious threat to that process- and Beijing is ground zero for the country's challenges. Beijing's air pollution is a health problem for everyone in the city, regardless of class or economic status. It is an economic problem as much as it is a social problem: if the city's residents can't breathe clean air then urban life cannot continue to thrive. Pollution is also a real threat to urbanization, as crisis levels could prompt people to revert back to rural living despite economic opportunities offered by the city.
Encouragingly, the Chinese government has fully acknowledged that pollution is a problem and is taking proactive steps to address the issue. This includes everything from limiting the amount of automobiles on the road at any given time to decommissioning coal-fire power plants near the city.
Yet this is not enough- there needs to be a paradigm shift in the way China and other developing countries urbanize and grow their economies. This includes embracing more ecologically sensitive technologies in power generation and transportation. To incentivize using these new technologies, China is testing out a pilot cap-and-trade program in 7 cities (including Beijing). If successful, China will roll out a nationwide cap-and-trade program by 2016.
In the meantime Beijing residents will have to do what they can to stay healthy in the current environmental conditions. Sadly, until the air is cleaned up, Beijing may have to put on hold its aspiration as a global center of arts and culture, despite the exciting activity happening at the grassroots level.