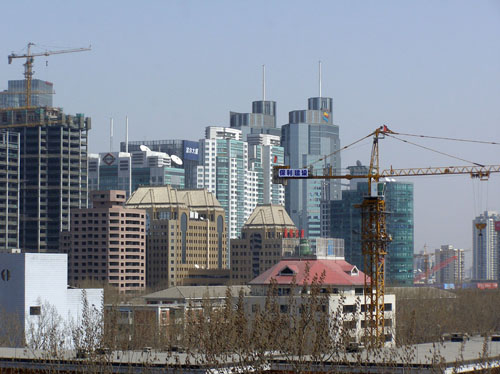 Architecture professionals across the world are entranced by the building boom taking place in China. The urbanization of China's cities has been a lucrative opportunity for several foreign firms. With the global economic recession freezing construction activity in most Western countries, more architects are looking to China as a panacea for the lack of new work.
Being an American architecture design professional working in China, I get asked often about opportunities for foreign architects eager to break into the local market. My advice always starts by suggesting  to leave preconceived notions about doing business in China behind and approach opportunities with a very open mind. Furthermore, despite the perception that China's building boom is a free-for-all, the reality is that penetrating the market and getting commissions is not as easy as it seems.
For one, securing architecture commissions is less about design ability and more about connections and relationships, or what is commonly known in China as 'guanxi'. Though networking plays a role in getting work anywhere in the world, the complexity of working in China is exacerbated by the fact that networks are established through prolonged and sustained effort. This means that having a local presence in China is critical- something that many foreign firms looking to break into the market currently lack.
Unfortunately, the international architecture media continues to promote China hype while overlooking these nuances of business, leading many firms to naïvely assume that projects are being handed out like free food samples at Costco.  Some firms have even been scammed into working on  illegitimate projects. Just earlier this year, a handful of New York-based architects found themselves on the losing end of an unsolicited invitation from a Chinese developer to work on a  supposed mixed-use project in Henan Province.
It turns out that each of these architects was part of the same scam, having been invited to work on the same project by the same client. Some of them even paid for their own plane tickets out to China to meet with the client and visit the site. It should've been a dead give-away that something was awry when the visiting architects paid for a banquet set up by the client. Luckily, word got around the New York architecture community and the firms involved realized they had been duped.
Without being intimately familiar with the details of this cautionary tale, I can speculate that it is possible that the client was actually a developer (albeit, possibly an amateur, as many in China are) and that the project could have been real. Buildings designed by a 'foreign architect' still adds a high degree of marketability to new projects in China, and the developer may have attempted to get free designs from these New York firms so he could promote the project this way to investors and planning officials.
A similar scam happened recently involving  British architects. Except this time, rather than the firms being contacted by clients, these architects had their identities hijacked unknowingly by local Chinese 'architects'. Reputable firms Broadway Malyan, Aedas, and Atkins, among others, had their websites cloned and design bids submitted with their names to Chinese clients. Again, the reason this happened is probably because local architects wanted  to market 'international' credibility in order to win design contracts.
It is no secret that China is and has been a hotbed for producing what is known as  'jiade' or fake products. Everything from counterfeit electronics and jewelry to tainted milk and drywall, it seems that making a quick profit is  paramount to all other considerations, even if it means sacrificing quality and ultimately scamming the consumer. Given the China building boom, it should come as no surprise that even now architects' identities are being faked as well.
With all that being said, China still offers tremendous opportunities to those  architects bold enough to do their homework and establish local relationships. Because foreign architects are limited to the early design phases of  a project, as construction document work is required by law to be produced by domestic Chinese firms, it is critical that foreign firms find ways to get involved in joint ventures with firms well-versed in local codes and regulations. Hopefully this will also ensure that foreign architecture firms have less risk of getting scammed in the future.
The Architect's Newspaper: China Confidential
Building: British Architects Targeted by Chinese Fraudsters
Building: Atkins is Latest Victim of Chinese Identity Fraudsters