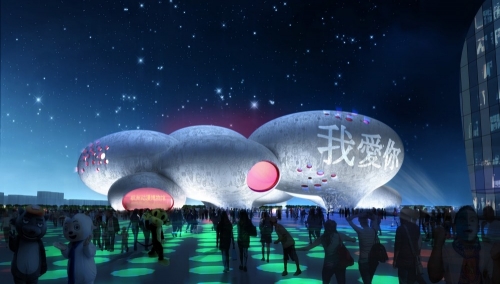 Competition Winning Entry for China Comic and Animation Museum in Hangzhou, by Dutch Architects MVRDV
I am often asked about the role of foreign architects working in China – particularly why China even needs foreign architects when there are many qualified Chinese architects. The answer is simple, albeit not the most politically correct: if we compare a piece of architecture to a consumer good, most Chinese buyers of luxury products will opt for a foreign name brand.
The same goes for Chinese developers building high-end real estate. This issue is pondered in an article on eChinacities titled "Foreign Architects in China: Innovation at the Cost of Culture?" Citing well-known examples of high-profile construction projects such as the CCTV Building and Olympic 'Bird's Nest' Stadium in Beijing and the Liujiazui supertall towers in Shanghai, the article's author wonders if these innovative pieces of architecture come at the expense of Chinese architectural culture.
The fact that foreign architects do design work in China has little to do with the issue of architectural stylistic discontinuity. Rather, the lack of continuity in the county's modern architecture is a result of China's own volatile relationship with its architectural past. The identity crisis in Chinese architecture today stems from Mao Zedong's Cultural Revolution, which sought to destroy anything that represented "old ways of thinking" – including much of China's rich architectural past.
The destruction of China's architectural heritage continued into the period of reform and opening, yet with less revolutionary aims. In the eyes of Chinese reformers, by the time the Cultural Revolution ended, it was too late to look back. For the past 30 years, modernization has been mostly a forward-looking campaign, with new constructions reflecting the country's ambitions to enter the ranks of the developed world.
Foreign architects are hired to work in China to help the country project an image of modernity. It is foreign architects' ability to create novel symbols, rather than their technical knowledge, that is of value to Chinese clients. Flushing out the details is left to local Chinese joint-venture partner firms who are well-versed in local codes and standards.
The overwhelming desire to project an image of modernity is how China ends up with hyper-rational, a-contextual modern structures like OMA's CCTV Building or the KPF-designed World Financial Center.
Yet not all foreign architects take the approach of novelty without inspiration from the treasure trove of China's long history. Other foreign-designed buildings, such as SOM's Jin Mao Tower, is heavily influenced by Chinese traditional motifs and based on the number 8- an auspicious number in Chinese culture. The Norman Foster-designed Beijing Capital Airport evokes a dragon-like form and uses a traditional Chinese color scheme.
While foreign architects can help in excavating China's past, it is ultimately up to Chinese architects and designers to decide their own future.