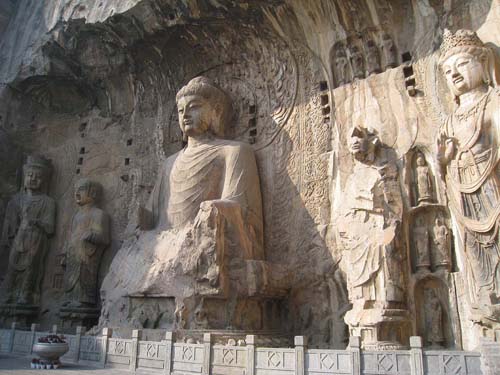 UNESCO Heritage Site, Longmen Grottoes Stone Carvings near Luoyang, Henan Province.  Photo by Easytourchina.
In April I had the honor of being invited to sit on a panel at a conference sponsored by Forbes China in Luoyang. The discussions that took place during the event centered around the next 10 years of development in central China. With Luoyang being the host, much of the discussion pertained to the city itself.
Luoyang, a city of about 6 million people, sits in China's central plains in the northwestern part of Henan Province, 100 kilometers west of the provincial capital Zhengzhou. New buildings dot the skyline, but not at the high density one sees in 1st or 2nd tier Chinese cities. Automobile and pedestrian traffic is light as well. Wide, tree-lined streets with bike lanes and generous sidewalks lend the city a pleasant atmosphere.
What is not immediately clear traversing the streets of Luoyang is the fact that it is one of China's Four Great Ancient Capitals. Luoyang was a seat of power for several dynasties- most prominently during the Eastern Zhou and Han dynasties, and later the Sui and Tang dynasties.
Today the most important relic left from Luoyang's imperial past is the Longmen Grottoes- a series of caves and magnificent Buddhist statue carvings stretching nearly 1 kilometer along the Yi River. Begun in the 5th Century A.D. during the Northern Wei Dynasty, much of what is left now was built during the later Tang Dynasty when Buddhism still played a central role in Chinese life.
The Longmen Grottoes became a UNESCO World Heritage Site in 2000, and since then Luoyang has seen its tourism industry growing steadily. Despite this growth, the city is not on the international radar at the level of Xi'an, another Ancient Capital 300 kilometers to the west.
Like Xi'an, Luoyang's main draw lies outside the city proper. Yet Xi'an offers much more to the visiting tourist than its famous Terracotta Warriors. The massive historic city wall remains intact and the city center possesses a lively Muslim quarter offering tasty cuisine from the Hui ethnic group.
In contrast, central Luoyang offers little in the way of history aside from a few old neighborhoods with shops specializing in selling Tang-inspired porcelain and lacquerware. Much history actually lies beneath the ground, where Tang dynasty treasures are routinely discovered during the construction of new projects throughout the city.
But how can Luoyang do a better job of positioning itself to not only attract more tourists but business investment as well? What are the city's strengths that can be played up to give Luoyang a more prominent place on the map?
These are the issues that were deliberated on the panel I took part in at the Forbes China forum. Along with panelists Ge Jianxiong, professor of historical geography at Fudan University, Li Dihua, vice dean of the Graduate School of Landscape Architecture at Peking University, and Wu Zhongqing, vice president of Shanghai Yuyuan Tourist Mart,  we discussed how Luoyang can use 'soft power' to better place itself for the future.
Both Professor Ge and Professor Li lamented the fact that Luoyang does not give the impression of being an Ancient Capital, having lost most of its historic architecture to various invasions and internal strife. Professor Ge contrasted Luoyang with Kyoto- the ancient capital of Japan (which was incidentely inspired by historic Luoyang during the Tang dynasty)- which retains much of its historic charm.
While acknowledging the value of traditional architecture is an important part of preserving Chinese cultural heritage, there is nothing that can be done to bring back the past. Attempting to rebuild ancient buildings exactly the way they were runs the risk of creating faux-village tourist traps that end up trivializing the past. Rather, Luoyang should focus on its current strengths to attract tourism and investment.
During my turn to speak I suggested that Luoyang already has a tremendous asset with the Longmen Grottoes, and is strategically located not far from two other internationally famous tourist spots- Xi'an and the Shaolin Temple. Luoyang should do a better job of promoting itself as a requisite stop for tourists visiting either or both of these places.
Unfortunately Luoyang has limited air connections, with only one flight per day from Beijing and Shanghai and a flight every other day from Chengdu. Luckily, the city is a stop along the new Zhengzhou-Xi'an high-speed rail line, giving it easy access to both of those cities.
Economically speaking, Luoyang will probably never compete with Zhengzhou, yet it can strengthen ties with Zhengzhou to create a strong central China trading zone. Furthermore, Luoyang should play up its assets such as its pleasant urban environment to attract investment. As cities on China's eastern seaboard become evermore expensive and out of reach for the aspiring middle class, Luoyang could offer a much lower-cost alternative for Chinese workers looking for a higher quality of life.
As Henan is one of China's most populous provinces, Luoyang needs to do all it can to retain local workers to help its economy grow. With the interior regions of China beginning to play a more important role in the country's overall development, now is the time for Luoyang and other central cities to make their mark by promoting their own unique character rather than becoming carbon copies of other, more successful cities.