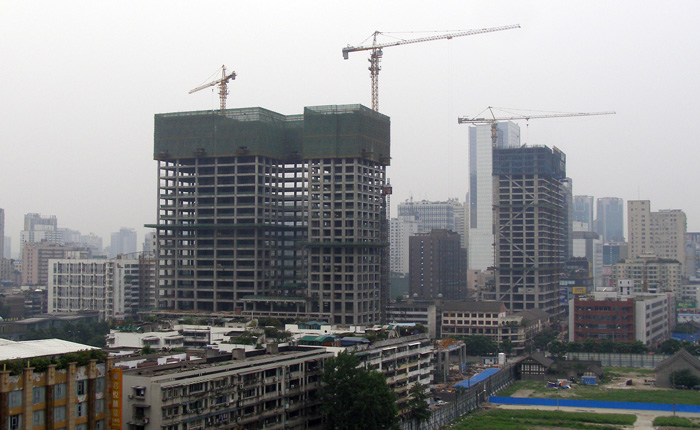 The 7.0-earthquake in Ya'an, Sichuan Province this past April once again brought up the topic of construction quality in China. Images of crumbled buildings also reminded the world of the devastation that overcame the very same region 5 years ago when more than 70,000 people perished in the 2008 Wenchuan Earthquake.
Amazingly, the loss of life in the Ya'an quake was markedly smaller at only 200 (granted, so was the severity of the quake, but 7.0 is magnitude still a very significant tremor). Ideally, the goal of seismic building safety is to minimize casualties, thus April's earthquake proved that China is stepping it up in the right direction.
I have a unique perspective on the issue having spent 2 years living and working in Chengdu, the capital of Sichuan. And given my position working on the inside of China's construction boom, industry colleagues and acquaintances outside China frequently inquired about the country's building safety standards.
The reality is that the discussion of building safety in China is complex. Back in architecture school, our structural engineering professor liked to remind us that "earthquakes don't kill people, structurally deficient buildings do". This tends to true, both in Sichuan and other seismically active regions around the world. And while China is generally known for questionable regulations and safety standards, Chinese building codes definitely do not allow any sort of leeway with structural safety.
That being said, it is important to note that an architect and structural engineer can design a building to be structurally sound but the final product will only be as good as the quality of construction, which is ultimately the responsibility of the general contractor. Provided the contractor follows architectural and structural drawings as designed, there should be no concern over seismic safety. Yet the process is never that simple.
By Western standards, construction administration in China is a rather opaque process for a designer. Final decisions during construction are made by owner and contractor without much input from the architect. This can cause issues with oversight, especially with the more unscrupulous contractors and owners who "skim off the top" by switching out building materials for inferior product at the last moment and pocket the difference in price.
While this is an unfortunate practice, the consequences are much less severe when applied to finish materials versus structural materials. Virtually all of the buildings that collapsed in both Sichuan earthquakes were a result of unreinforced masonry construction, meaning that builders stacked bricks or concrete blocks without using sufficient (or any) steel reinforcing bar (rebar). Furthermore, most of these buildings were located in rural towns where they were probably built by individuals not formally trained in construction techniques. This isn't an excuse, but rather a reflection of a country that is still developing.
Further highlighting the urban/rural gap in China is the fact that in both Sichuan earthquakes, Chengdu proper suffered minimal damage comparatively to its surrounding countryside. And with the mad frenzy of construction going on in the city, never once did I see a cause for concern with the structural reliability of city's new buildings. In fact, the new high-rise buildings rising in Chengdu's core fared well in April's earthquake.
So while there is still improvement to be made in construction processes and techniques, especially in the more rural areas of China, my feeling is that safety standards are only getting better. The architecture and engineering professions in China, as well as government authorities, take seismic safety very seriously and do not lack the know-how in designing and building safe buildings.
The 2008 Wenchuan Earthquake was a wake up call, but given how far China has come in terms of development, there is a very good chance that this will have been the last catastrophic seismic event in country.