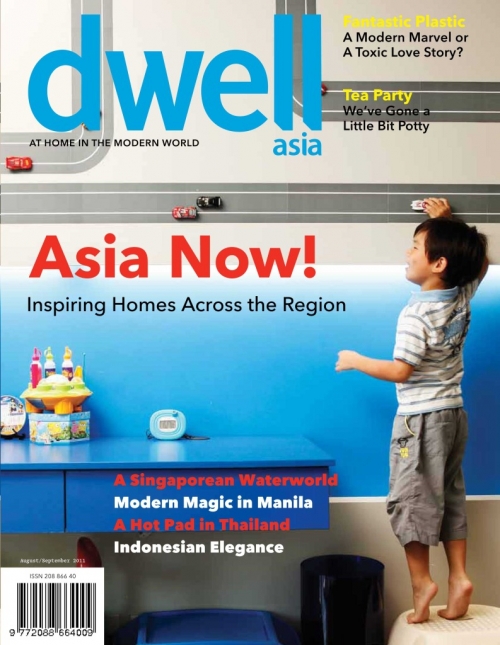 A piece I wrote about China's proposed eco-cities appeared recently in the  inaugural issue of Dwell Asia magazine. The article takes a look at two proposed eco-cities, Dongtan in Shanghai and the Sino-Singapore Eco-city in Tianjin, examining the implications of the ideas presented in both proposals.
For the readers of the China Urban Development Blog, here is a reproduction of the original piece:
Today's urban development zeitgeist suggests that cities should move towards sustainable models of living to combat climate change and reduce resource consumption. Of course, how to achieve that is a subject of ongoing debate among design and planning professionals. Unfortunately, branding new developments as 'green', 'eco' or 'sustainable' is often a loaded attempt to satisfy marketing and public relations needs for developers and government officials.
Nowhere is the use of greenwashing strategies more common than in China, where new cities practically arise overnight. Many new developments, particularly large-scale residential communities consisting of repetitive tower blocks, with names like Authentic Gardens and Spring Flower Court, claim to be environmentally friendly, but have little in the way of sustainable design strategies aside from a few patches of green space.
There are few problems with this mode of development. For one, new residential projects often take up entire city blocks, turning their back on public streets and discouraging a mix of uses and walkability. Secondly, tower blocks are often built cheaply without proper insulation or sealed windows, leading to more energy consumption for heating and cooling. With the demand for new residential units so strong, there is generally no incentive for property developers to spend extra on things that would save energy in the long run.
The need to make new residential developments sound greener than they actually are reflects a deep contradiction between China's traditional love of nature and its current state of hyper-urbanisation. As more farmland makes way for expanding cities, promoting a sense of nostalgia ensures that newly developed properties will appeal to first time Chinese homebuyers. Yet a new mode of development is emerging in what might ultimately serve as more appropriate and honest model for China to reconcile its agrarian past with its
urban future.
Enter the eco-city. The eco-city concept, which has gained a wide international audience among planners and environmentalists over the last two decades, aims to build new cities and neighbourhoods in a way that uses the best of sustainable technologies and planning strategies to reduce waste and carbon emissions. Given its current state of development, China is an ideal testing ground for new eco-cities.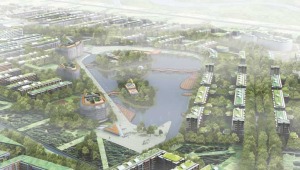 Dongtan: A planned Eco-city on Chongming Island in Shanghai
China is lauded for two planned eco-cities in particular: Dongtan, on Chongming Island in Shanghai, and the Sino-Singapore Eco-city in Tianjin. Both eco-cities lie well outside the traditional urban cores of their respective municipalities and seek to become self-sufficient sustainable communities complete with residential, commercial, retail, educational and recreational uses. The way in which these eco-cities differ from other new developments around China is their focus on clean energy, including solar, wind and bio-fuels and urban design promoting sustainable transportation methods such as walking and cycling.
Despite the good intentions of their designers, there is some concern over the viability and appeal of such developments. Some critics argue that Dongtan, which is now indefinitely on hold, is nothing more than a 'Potemkin Village' meant to make government officials look good. Others argue that the high initial cost of sustainable technologies means that the cost of living will be too far out of reach for middle-class Chinese urbanites.
Perhaps most misleading about China's eco-cities is the overall impact they will have on the entire country's carbon footprint. Together, Dongtan and the Tianjin Eco-City are planned for less than 1 million residents…a drop in the bucket compared to an urbanising population of more than a billion.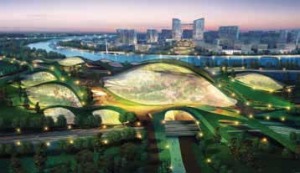 Sino-Singapore Eco-city in Tianjin
Eco-city hype aside, China is doing much more to develop towards a more sustainable future in ways that will have much greater impact. Construction of transportation infrastructure, including a national high-speed rail system and extensive metro systems in nearly every large city, will help reduce carbon emissions. Furthermore, China is already the world leader in renewable energy technology, with enormous investment into wind and solar energy.
Whether or not China's eco-cities ever come to fruition, there are lessons to be taken from the ideas presented in the plans. Promoting genuine mixed-use neighborhoods and buildings with sustainable technologies such as passive heating and cooling and low-flush toilets are a step in the right direction. Yet given the type of development that is currently en vogue in China (the quickly built, tower block type), perhaps it best to start with the unglamorous basics: wall insulation and properly sealed windows.