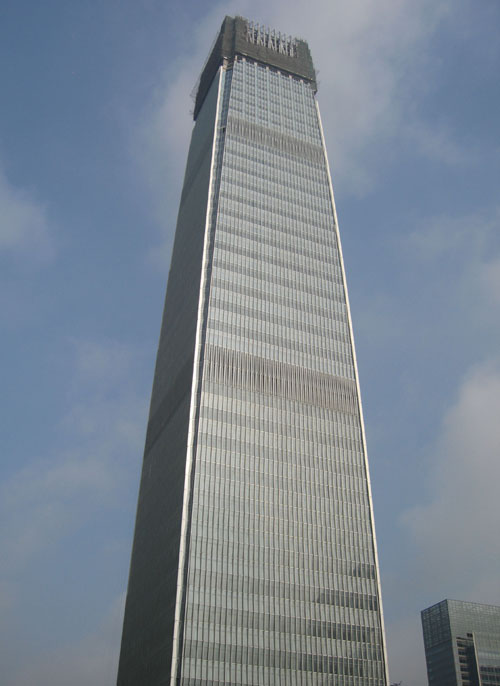 The China World Trade Center in Beijing, Designed by American Architects Skidmore, Owings & Merrill
The New York Times finally caught up to what savvy architecture firms in the U.S. have known for at least the past decade: there is a lot of work to be had in China.
Now it seems that smaller firms are getting in on the action as well, and that in many cases Chinese clients are turning out to be  more adventurous in accepting new design ideas:
"These firms are grateful for the commissions, and not only for the obvious reason — that the Chinese work has helped fill the void left by a listless American economy. More intriguing, the architects say, is that Chinese developers and even government agencies are proving to be better clients than their American counterparts. They say the Chinese are more ambitious, more adventurous and even more willing to spend the money necessary to realize the designs. This thrills the architects, who have artistic undercurrents that often struggle to find an outlet."
This is certainly true to a large extent, yet the NYT piece glosses over some of the difficulties U.S. architecture offices face when seeking work in China, especially if they do not already have a presence in the country or some other kind of local connection. Sure enough, just last year (and previously mentioned on this blog), some American architects found themselves caught up in scams related to bogus projects in China, perhaps blinded by the hype promoting the country as an architectural free-for-all.
With that being said, the booming China market has been a savior for many architecture firms in the U.S., especially for more established  and larger companies like Skidmore, Owings and Merrill and Kohn Pedersen Fox, who have both done some their best work here.
For smaller companies looking to enter the China market, there is a calculated risk involved, yet as the NYT article articulates, the rewards can potentially be enormous.

New York Times: Architects Find Their Dream Client, in China