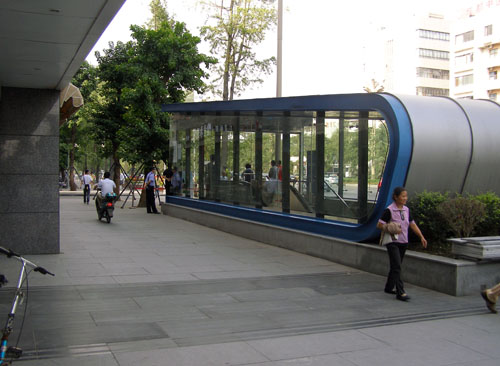 Entry shell to the new Chengdu underground metro
October 1st, 2010 will be a momentous day in the Sichuan capital of Chengdu. On this day, the city will inaugurate its first subway line: Line 1. This is significant not only because road traffic is getting increasingly worse in the city and more alternatives for getting around town are much-needed, but also because it represents to the citizens of Chengdu a rite of passage into modern China.
Line 1 of the Chengdu Metro traverses a north-south axis through the middle of the city, reaching from the older neighborhoods in the north to the newly developed high-technology zones in the south. In the center is the Tianfu Square station, where Line 1 and Line 2 are set to converge in the future making it a critical transfer hub.
I had the privilege of getting a first look at the new metro line two weeks ago when the city was running trial operations. The experience left me highly impressed. The design of the subway stations are minimal and functional- not too different from the look of metro systems already in place in other Chinese cities. The same can also be said about the subway trains.
Just as encouraging was the reaction of the local Chengdu people who were lucky enough to win tickets to ride Line 1 before its official opening. The smiles and flashing camera bulbs told the story of a citizenry genuinely elated and proud to see this kind of new development in their city.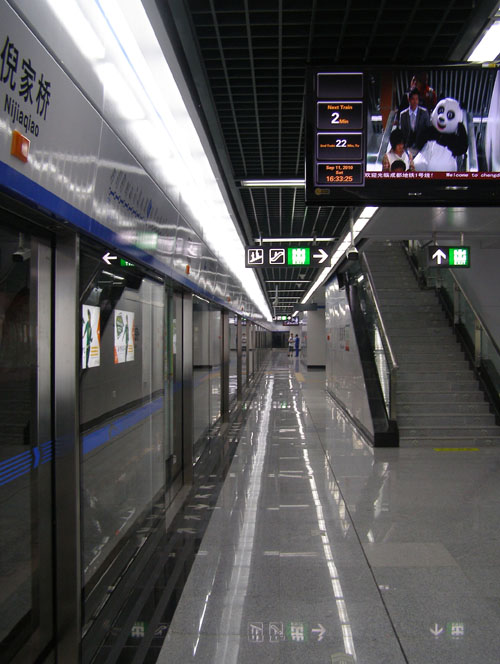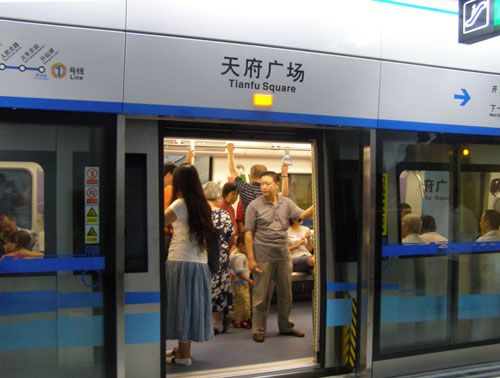 Some locals are disappointed with what they see as a less than inspiring design of the line's central stop at Tianfu Square. One of my colleagues described the sunken plaza in the middle of the square  that leads to the underground metro station as huo guo (hot pot).
Originally conceived as a modern plaza by the Pei Partnership, the scheme was eventually shelved for a design that relates more closely to local Chengdu culture. In the sunken plaza, faux-rock formations with waterfalls pay homage to the natural surroundings outside the city. On the walls of the plaza, photographs of old Chengdu tell the story of a tea-drinking culture that still continues on today.




Aesthetic critiques aside, the subway is a huge accomplishment for the city and only the beginning of what will be a comprehensive metro system, thus making mobility around Chengdu ever more convenient and efficient.
See additional coverage of the new metro Line 1 from local Chengdu blogs:
Chengdu Living: Chengdu Subway: Day One Photos
GoChengdoo: Panda Express: Chengdu Metro Line 1 Opens for Free Sneak Peeks